Best Places to Find Wall Art Online
Posted On August 19, 2020
You can purchase wall art to decorate your home online. A great deal of these types of art exists for sale. You can find some of it by entering a Google search for "online wall art" and looking through the sources returned. 
Another possibility is searching the artwork offerings at some of the established, well-known websites that offer wall art for sale. The following sites have extensive collections. If you don't know what you are looking for, it can be worthwhile to look through the collections offered by these sites. You may find something that just suits you. You may want to know that selling through one of these websites (particularly Etsy.com) provides a sales opportunity for lesser-known artists.
When you buy something through Shop Home Idea's retail links, we may earn an affiliate commission.
Related: 7 Affordable Home Decor Sites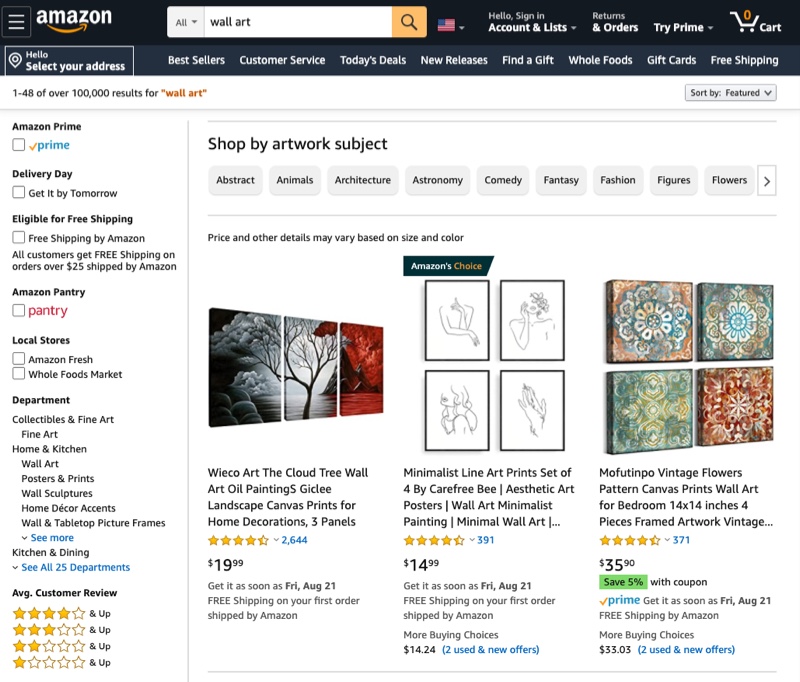 Amazon.com
Amazon lists plenty of wall art for your consideration. The site has a wide variety of art that's mass-produced yet can easily fit your needs no matter the subject. Prices range from a low, ten dollars to the thousands. Look for categories like plants, people, animals, still life, and more. Amazon's long-time and wide-ranging business make this a good source of art for one to consider. Besides looking through the selection of art, it may be worthwhile to read some of the customer reviews offered by Amazon. You may learn about the quality, shipping time, and more.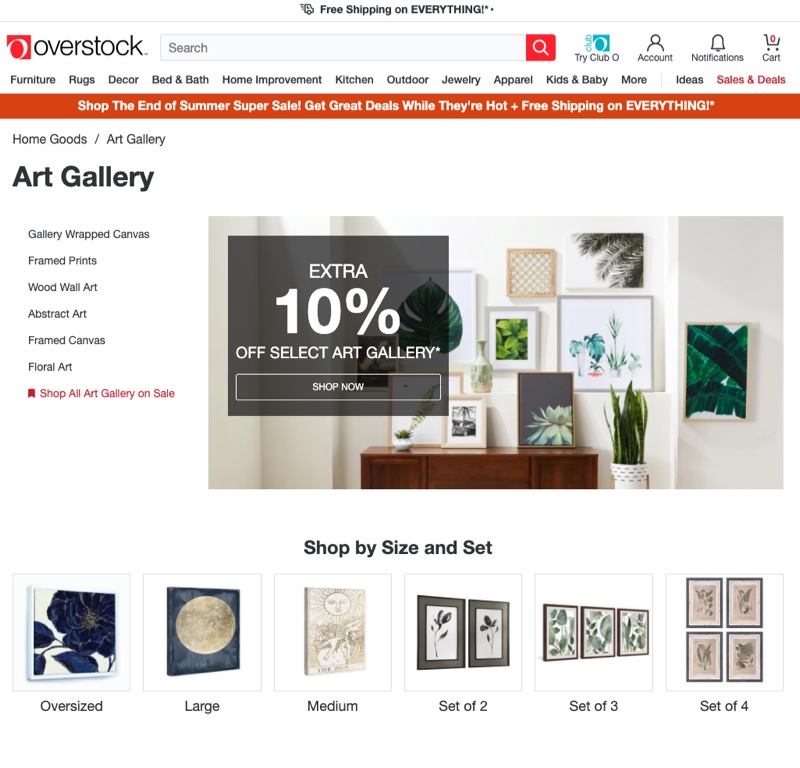 Overstock.com
On Overstock.com, you can find deals on highly-priced items. This site offers reviews of past purchases, similar to Amazon's website. Overstock has over 5,000 pieces of different kinds of wall art. They offer sale prices on many of the pieces, with the sale lasting (typically) for two days. A great deal of variety of art can be found on this site. It is worth looking through its collection if it's just for ideas. Look for canvas paintings, metal frames, and woodwork art to improve your living space.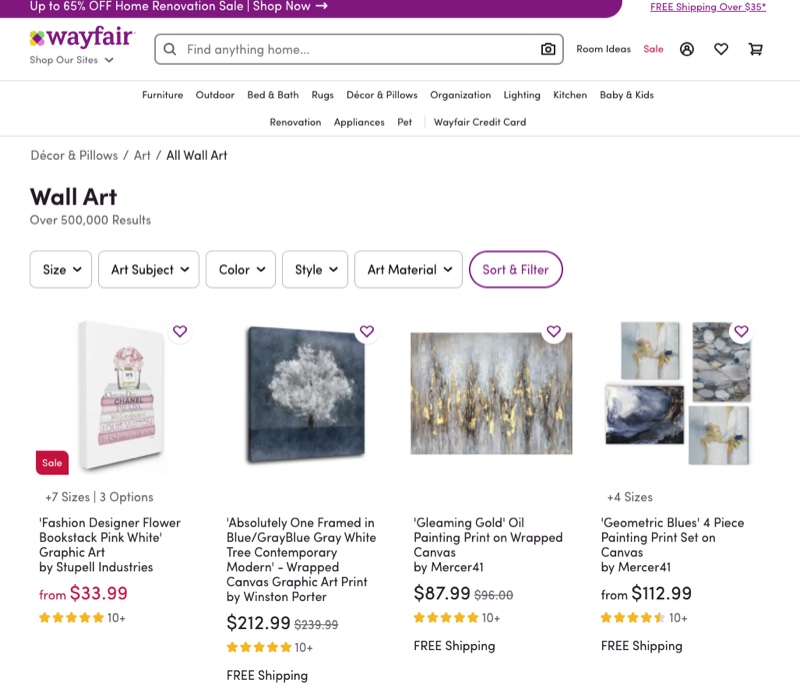 Wayfair.com
A search for wall art on Wayfair returned a listing of over 767,000 pieces. Prices here range from under $25 to the hundreds. One feature of this site is its offering of searching for wall art by different elements, namely size, subject, color, style, and material. This feature would be beneficial in looking through its extensive offering. This site also provides customer reviews for each piece of artwork offered. Whether looking for textual art or fashion pieces, there's plenty of options.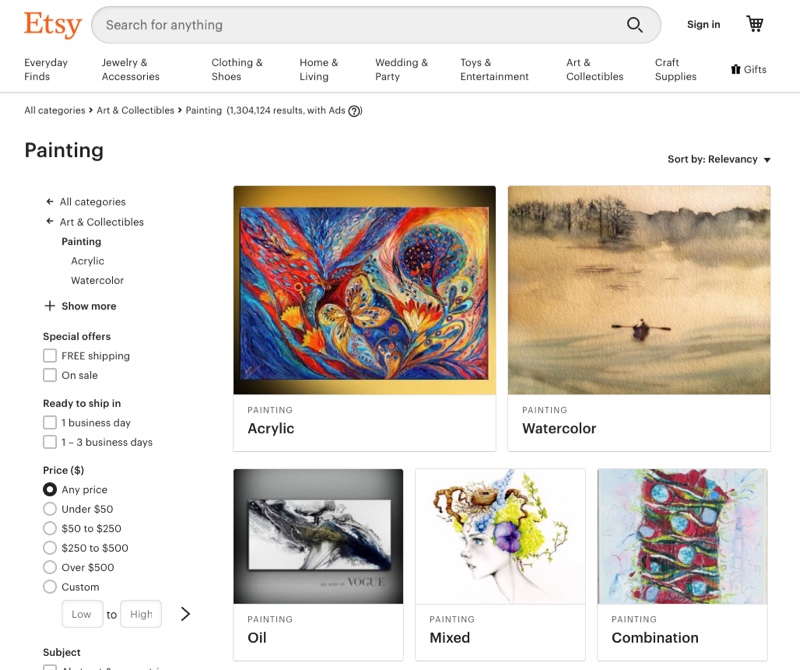 Etsy.com
Etsy has an extensive collection of wall art at various prices. The topics cover nearly all of the full range, but do not include very risque pieces. More than 15,000 works of art are for sale. The art is sometimes done in black and white and sometimes in color and is often rendered on canvas or paper. There are some pieces done in copper, and some in wood. All manner of art can be discovered on the platform. Etsy.com provides customer reviews for each piece of artwork offered. This site is known for showcasing the work of lesser-known artists, meaning you can find out more about the artist.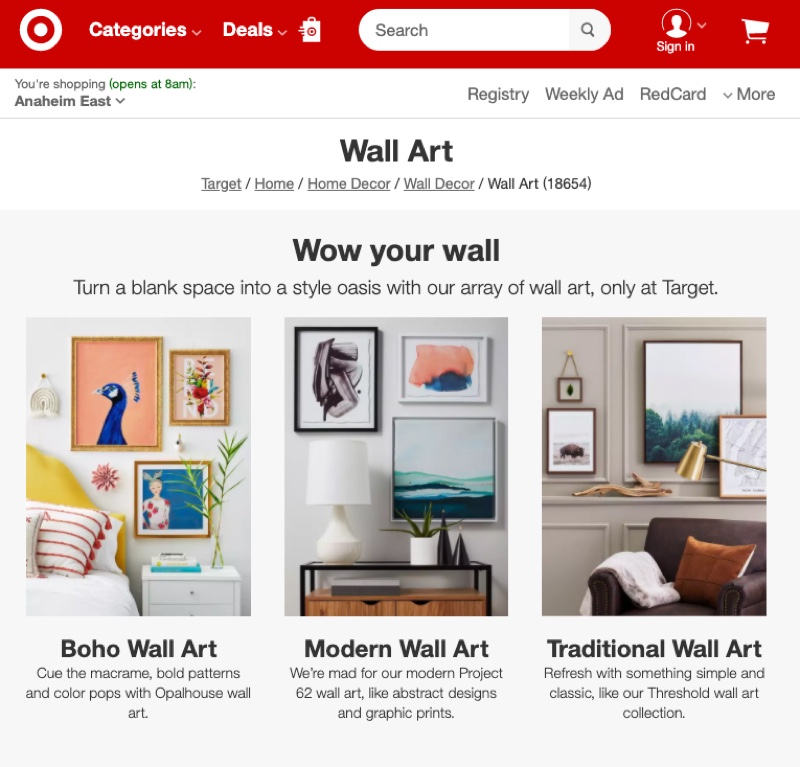 Target.com
A search on this site for wall art returned over 24,000 results. This site has a rather extensive capability for narrowing down one's search for a particular art style. Target delivers not only art but other categories, so it makes a great one-stop-shop. Like all of the other sites reviewed here, Target.com provides customer reviews for each piece of artwork offered. Prices range from the low digits for posters and mid-hundreds for large canvases.
Homepage photo: Shutterstock.com