Halo Top vs. Enlightened – Which Low Calorie Ice Cream is Better?
Posted On February 24, 2018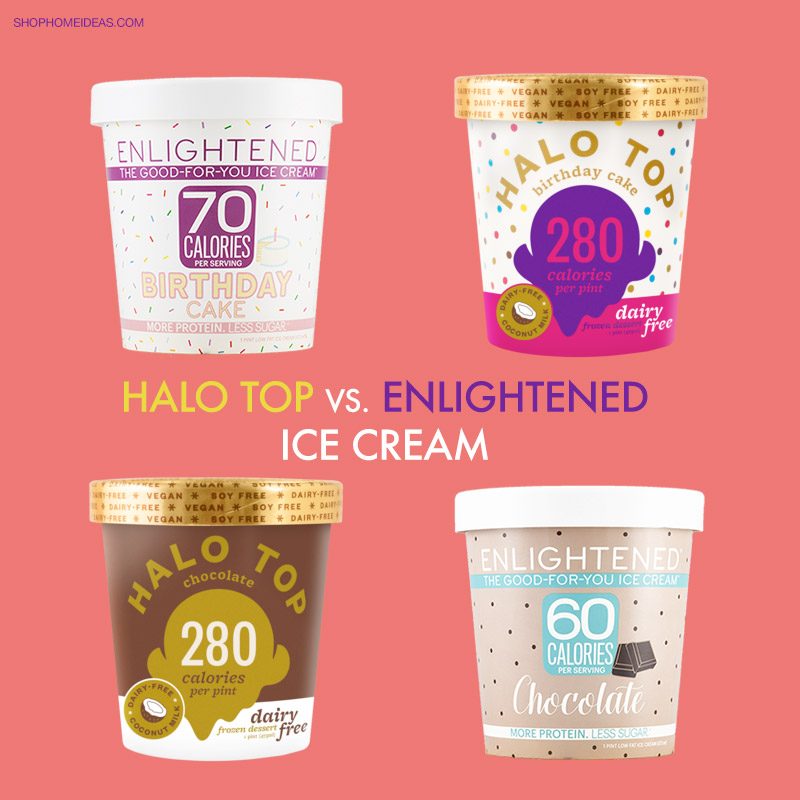 If you are looking for a low-calorie and high protein alternative to regular ice cream, there are two brands widely available. Halo Top and Enlightened ice cream offer healthier options to full fat ice creams. Which one tastes better? Read our review to find out below.
Halo Top
The first brand we will be taking a closer look at is Halo Top. Founded in 2012, Halo Top currently has over 50 flavors including dairy and dairy-free. In a pint, calories range from 280 to 380. So how do they get ice cream to be so low in calories? Halo Top uses low-calorie organic Stevia–a plant found in Uruguay. They also use Erythritol, another sweetener found in fruits like pears and grapes. In each pint, you can also find 20 to 24 grams of protein.
Related: Sugar Sweet Sunshine Bakery in New York Review
Taste: Nothing will quite compare to the taste of real ice cream, but Halo Top comes close. It has a nice and smooth texture.
Calories: Starts at 70 cal per serving or 280 cal for a whole pint, goes up to 95 cal per serving or 380 cal for a whole pint.
Price: Depending on which stores you visit and the sales available, it can vary. From what I've seen, prices vary between $4.99 (when on sale) and go up $7.50 (at select retailers)
Packaging: If you are into aesthetics, Halo Top's packaging definitely wins out compared to Enlightened's. You can tell some serious work went into it, and I like the gold foil seal on the top of each ice cream.
Overall: I find Halo Top to be a fabulous ice cream brand overall. I have yet to find a flavor that I absolutely hated. The low calories can allow you to eat a whole pint in one sitting without feeling the guilt.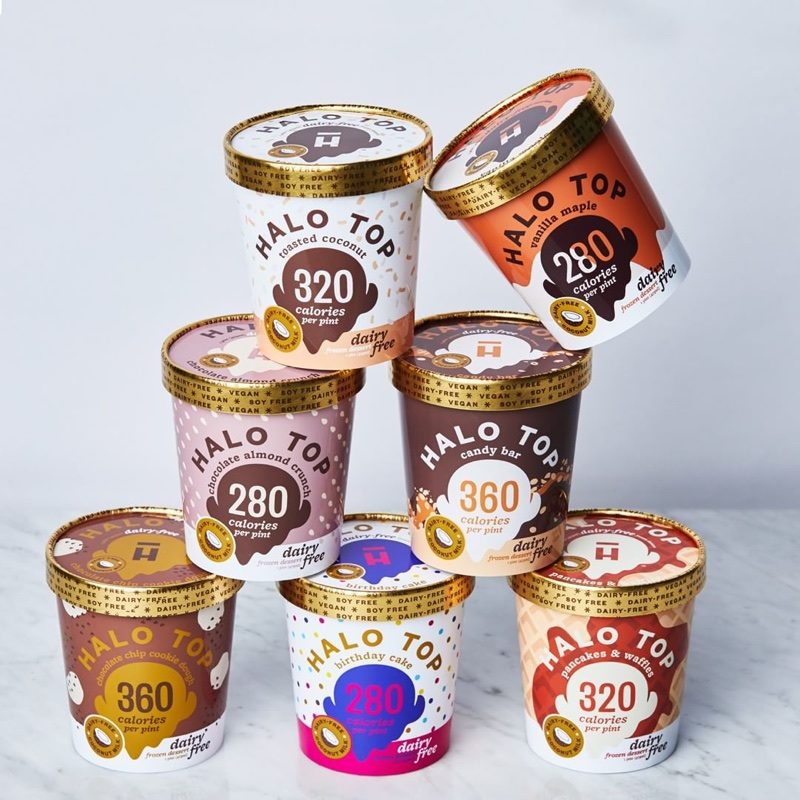 Halo Top Flavors
Here are a few Halo Top flavors I have tried, and what I think of them.
Chocolate: The chocolate flavor is good for chocolate lovers and tastes close to real chocolate ice cream. I also want to mention its only 320 calories per pint.
Vanilla Bean: This is my least favorite flavor from Halo Top. It tastes nothing like vanilla, and is too sweet in my opinion.
Birthday Cake: One of my favorite flavors from Halo Top. It definitely lives up to its name. It's not overly sweet and has a good texture.
Strawberry: Not a big fan of this one. It tastes overly sweet, but I would try it again.
Pistachio: This is another favorite of mine. I was weary about trying it at first, but it tastes exactly like pistachio that I remember having growing up. Love that a while pint is only 280 calories too!
Caramel Macchiato: A newer flavor, I tried this recently and absolutely love it. It reminds me of the Starbucks drink but has way less sugar.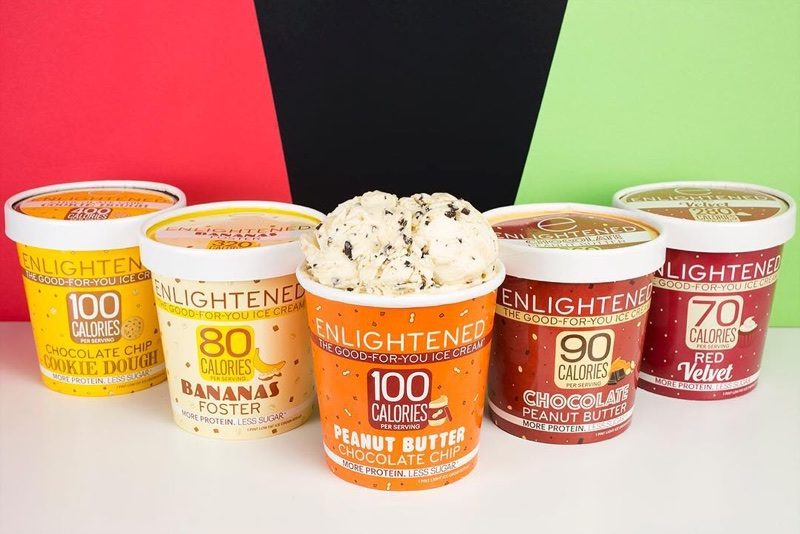 Enlightened Ice Cream
Next up, we will talk about Enlightened Ice Cream. Founded in 2012, Enlightened currently has 21 flavors for a pint of ice cream. The brand also carries crispy marshmallow treats, roasted broad bean crisps and ice cream bars. In a pint of ice cream, calories range from 280 to 400. The company uses skim milk and Erythritol to get the lower calories. Protein servings range from 6 grams to 8 grams per servings, or 24 grams to 32 grams for a whole pint.
First, I must admit that I have not tried a pint of ice cream from Enlightened, I have only tried the ice cream bars. I do not know if this changes the flavor profile, so be warned.
Taste: I find that the texture of the ice cream varies depending on the flavor. Sometimes, it's smooth, other times it's more rough.
Calories: Starts at 70 cal per serving or 280 cal for a whole pint, goes up to 100 cal per serving or 400 cal for a while pint.
Price: It can vary depending on your location. I've seen prices vary between $6.00 and $7.99 for a box of ice cream bars.
Packaging: Enlightened's packaging is good, but it looks a little amateur in my opinion. Unlike Halo Top, they put the calorie per serving at the forefront, and I think it's a mistake. It could definitely use some work.
Overall: The quality of the ice cream wildly changes in my opinion. The flavors I love, I really love. The flavors I dislike are just horrible to me. It really makes me weary of trying new flavors because of this.
Enlightened Flavors
Here are a few Enlightened ice cream flavors which I tried, and my opinions on them.
Cold Brew Ice Cream Coffee: This is definitely one of my favorites. I think it really tastes like iced coffee with the perfect balance of sweet and bitter. A definite try for coffee fans.
Birthday Cake: Not a fan of this one. The texture is too rough, and not sweet enough. When compared to Halo Top, there's no question, Halo Top wins.
Red Velvet: I was a little cautious of this flavor, but it's amazing, one of the best from Enlightened. The cream cheese flavoring is also a nice touch.
Sea Salt Caramel: I tried this as an ice cream bar, and at first, I was ready to throw it out. The first one I tried was way too salty, but upon having another one, the salt was toned down and I enjoyed it. Not sure if I got used to the taste or if their was a mistake with the first bar.
Chocolate: This one could definitely use work. It's not chocolate-y enough in my opinion, and could use more sweetener. Compared to Halo Top, Halo Top wins.
The Verdict: Halo Top vs. Enlightened
If you have read my full review, it should be easy to see that Halo Top comes out on top. When the same flavors come head to head with Enlightened's, Halo Top always win. Halo Top's texture also comes closer to real ice cream. In short, Halo Top is better than Enlightened! Enlightened is not horrible, by any means, so give it a try if you see it in stores. But make sure to be careful with choosing flavors. If you have tried Halo Top and Enlightened yourself, tell us your thoughts!